November  2016 ZAP Minneapolis Newsletter
Included:
Protected Bike Lanes Reduce Cycling Accidents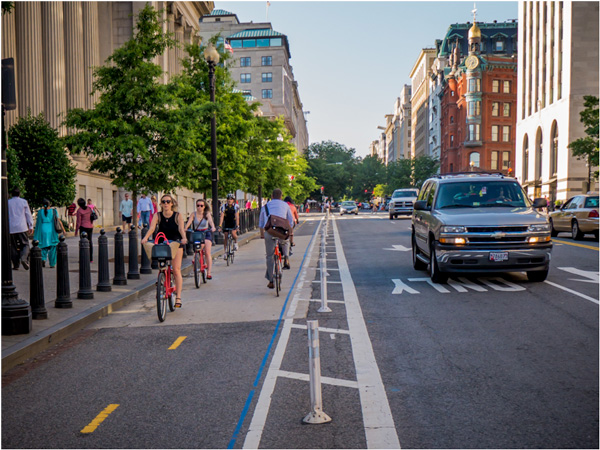 photo: Active Transportation Alliance
Improvements of bike lane infrastructure in Minneapolis are paying off in lower crash, injury and bike fatality rates. According to an editorial published by the American Journal of Public Health, bike accidents are down 75 percent and fatalities 79 percent per 100,000 trips in Minneapolis over a 15 year period from 2000 – 2015. The research demonstrates that protected bikeways (dedicated trails, or separated by a barrier from vehicular traffic) are the safest for cyclists. There are over 100 miles of protected bikeways in Minneapolis — most of them dedicated trails such as the Midtown Greenway. There is an effort underway in downtown to build more protected bikeways onto existing city streets. This doesn't include 35 miles of bike boulevards and streets of painted lanes where bikes share the road with motor vehicles.
Canadian research, including a study from the University of British Columbia, found the injury rate was 89 percent lower on streets that impose raised curbs, posts or other barriers between cars and cyclists, compared with streets without any bike markings. Protected lanes are much safer than unprotected lanes and attract more cyclists. This is encouraging for downtown bicycle commuters who have felt challenged navigating city streets with vehicle traffic. A lack of safe bike routes in downtown Minneapolis is one of the main barriers to expanding bicycle commuting to more workers.
Minneapolis has the most bike lanes per square mile in a ranking of national cities, according to 2014 data compiled the bike advocacy group Alliance for Biking and Walking.  The 5.8 mile of lanes per square mile includes lanes protected with plastic posts, curbs or parked cars, regular painted lanes, and off-road paths. The goal is to build 30 more miles of protected on-street lanes by 2020. Protected bikeway projects currently under construction or in the planning stages in downtown Minneapolis include; Washington Avenue,  5th Street Reconnect/Samatar Crossing and Hennepin Avenue.
ZAP Tag Helps Recover A Stolen Bike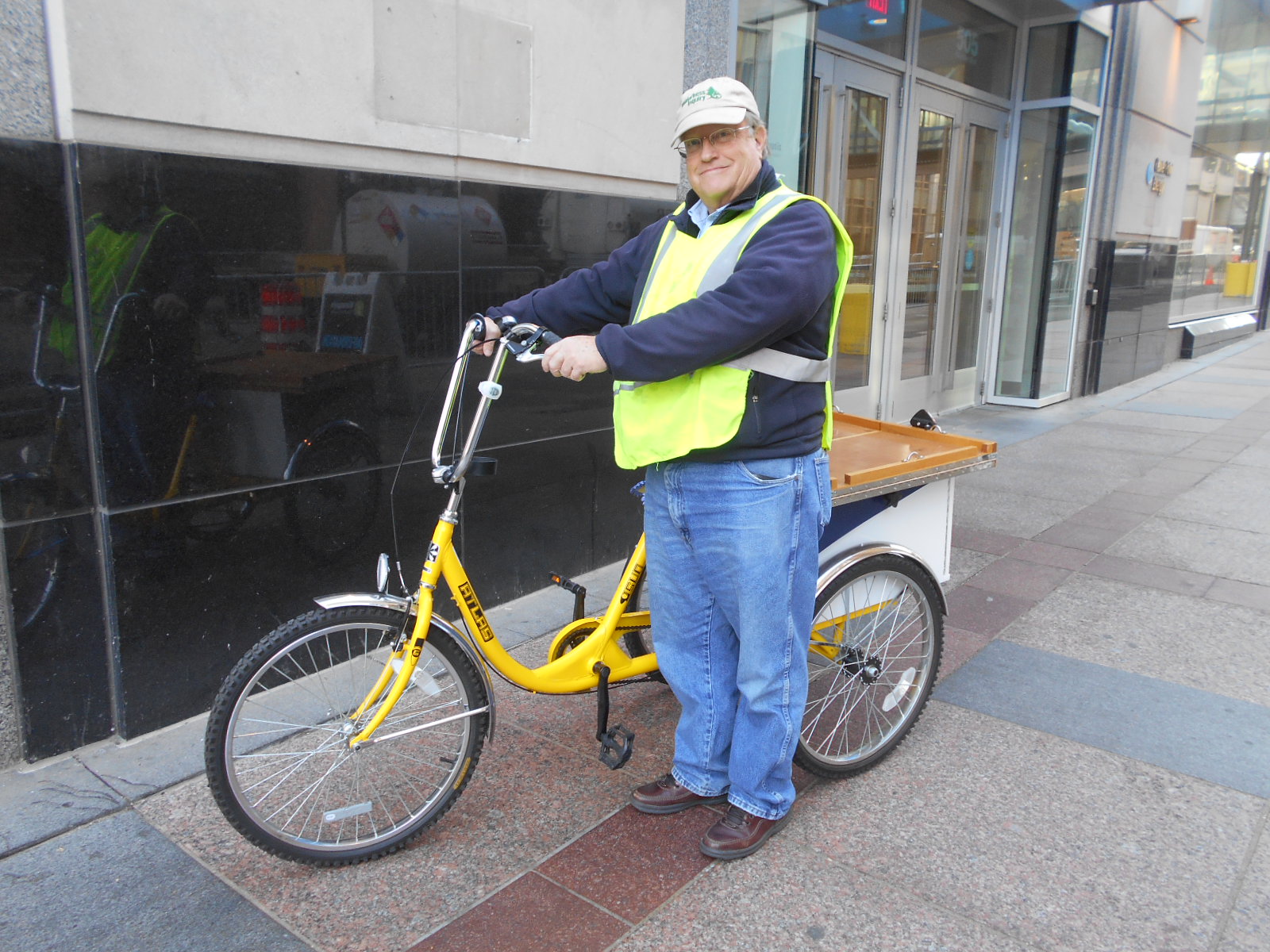 Tom Clarke is a retiree living in Uptown Minneapolis who does not want to be burdened with owning a car.  He uses transit and a well-worn bicycle for his transportation needs.  Years ago, he was given a used bicycle by former City Councilmember Lisa McDonald.  A friend, illustrator/cartoonist Ken Avidor, rebuilt the bike with new parts and Tom's new wheels were set. Tom was soon riding all over the Twin Cities maintaining an active social life. To keep track of his bike trips, Tom signed up as a ZAPPER in 2013.
Tom kept his bike locked in a fenced-in area behind his apartment building where it was out of view – or, so he thought.  Evidently, someone spotted his bike in the backyard and cut the lock off one night. Clarke reported the bike stolen to the police but had a difficult time describing it in the police report. The bike was built out of many different bike components – making it truly one-of-a-kind. He figured that his bicycle was gone for good.
Several weeks later Move Minneapolis received a call from Minneapolis' 5th Precinct about a ZAP tag found on an abandoned bike. The police officer was familiar with the ZAP Twin Cities program and wondered if we could track down the tag's owner. Clarke was overjoyed to be reunited with his stolen bike. Remarkably, the bike was found in good condition with the ZAP tag intact.
Local police departments have contacted ZAP Twin Cities on numerous occasions to track down bike owners via ZAP tag numbers. If your bike is stolen be sure to include ZAP tags in a police report and contact ZAP Twin Cities. We can look to see if the bike is still ZAPPING and where. Tom still rides his bike almost every day, thanks to the 5th Precinct and his ZAP tag.
Before

ZAPPING Through the Snow
Astute St Paul cyclists may have noticed something different with the Cathedral Hill ZAP reader. Earlier this month, the reader located at John Ireland Boulevard and Kellogg Boulevard was hardwired to the city's power grid.  
The new hard-wiring replaced the solar panel that previously charged the Cathedral Hill ZAP reader. ZAP Twin Cities decided to make the change because gray Minnesota winters negatively impact a solar powered ZAP reader from recording ZAPs. The Cathedral Hill reader is one of the highest used locations in St. Paul, and now the new hardwired reader will reliably work rain or shine. Bikers will have no problem recording their ZAPs at Cathedral Hill this winter — even on the coldest, snowiest days! 
If you miss that tell-tale beep and your ZAP doesn't get recorded, we can credit you. For the St Paul program: contact alyssa@smart-trips.org or call 651-224-8555 ext. 23.
For the Minneapolis program:  contact john@moveminneapolis.org, or call 612-466-7323
ZAP Prize Winners This Past Month!

Drum roll please!

Big Winners: The monthly drawing ZAP Prize winners of a gift card to Belwether Skull Cap:
The ZAP Prize winners of the One On One Bicycle Studio gift certificates:
D. Polglaze, R. Garwood, G. Rodrigo, G. Hoffman, C. Coudray, M. Bradby, T. Tegtmeier, J. Hain, T. Campbell, E. Young
The ZAP Prize winner of the Topeak Mini Dual DXG bike air pump:
The ZAP Prize winner of Bike Light & Directional Light:
The ZAP Prize winner of the ToPeak Bar Pack & Surly Socks
The ZAP Prize winner of the Surly Socks and LED bike light

To be entered in the monthly drawing for prizes, all you have to do is get ZAPPED at least 8 times during a given month. Winners are picked randomly from the pool of ZAPPERS with 8 or more ZAPS. If you have not yet redeemed your prizes, please pick them up at MOVE MINNEAPOLIS, Minneapolis Visitor Information at 505 Nicollet Mall. Open M-Sat, 10am – 6pm,  Sun. 12pm – 5pm.           
Make your first 10 ZAPs and earn bike lights!               
One of ZAP's special rewards: Make your 1st ten ZAPs and score an LED bike light/tail light set. We'll send out an email once a month to all of the new ZAPPERS who make their 1st ten ZAPs.
Want More Chances to Win Prizes? Follow and "Like" ZAP on Facebook and Twitter for impromptu give-aways!
Wells Fargo's New Employee Bike Room Sets The Bar
 
The new Downtown East Well Fargo Bank towers opened for occupancy this past July. Nearly 5,000 Wells Fargo employees will soon be working in the state-of-the-art, LEED Platinum Certified buildings situated side-by-side on the north side of Commons Park. Car free commuting is a very viable option for staff. Employees enjoy easy access to the US Bank Stadium LRT Station, major bus routes and several bike trails pass within a block or two.
To encourage employees to bicycle commute,Well Fargo installed a spacious bike room. Three varieties of secure racks hold up to 125 bicycles – with space to add more when needed. Bike work benches and tools allow for maintenance, there's even bike wash provided for those slushy winter rides. For cleaning the riders, showers and lockers are available. While these amenities are popular with employees, the pay off for Wells Fargo is with a healthier and happier staff. New bicycle commuters sign-up for the bike room each month and many have committed to ride year-round. 
ZAP Reader Upgrades Just In Time For The Snow

Last month some badly needed maintenance was completed on eight ZAP readers in Minneapolis.  The shattered solar panel on top of the Cedar Riverside ZAP reader was replaced. The West River Road ZAP reader just north of the Hennepin Ave bridge was completely rebuilt. New batteries were installed in seven other readers – something that was long overdue.  The work was completed just as we enter the shortest days of the season when the solar panels are in their weakest state.  The low angle of the sun and fewest hours of sunlight are big challenges ZAP readers.  Cold and a covering of snow don't help matters either. Please notify ZAP Twin Cities if you miss any ZAPs and we'll credit your account. Hang in there,…spring…..is……just…..around the corner.
  ZAP Minneapolis Newsletter November 2016
---
ZAP Minneapolis is a program of Move Minneapolis. Move Minneapolis is made possible by a federal Congestion Mitigation and Air Quality (CMAQ) grant in partnership with the United States Department of Transportation, the Metropolitan Council, the City of Minneapolis and the Downtown community.