August 2016 ZAP Minneapolis Newsletter
Included:
Orange Cones, Detours And Raised Bikeways

Seems like one can't cross downtown Minneapolis without running into road barriers and closed streets. Getting from point "A" to "B" is filled with detours. Although painful now, the construction headaches will bloom into a beautiful network of bikeways. The major construciton projects are being rushed for completion in time for the 2018 Superbowl at US Bank Stadium. While of the road projects are primarily for car traffice, they promise improvements to the bike and pedistrian infrastructure too.
The Washington Avenue project between Hennepin Ave and 5th Ave S includes protected bike lanes raised to sidewalk level. The project is expected to be completed in 2017.
Hennepin-Lyndale Project is well underway between Franklin Ave and Dunwoody Blvd. This includes sidewalk, bike trail and intersection upgrades. The construction has already caused the temporary removal of the Loring Park/Oak Street ZAP reader (see photo). The project is expected to completed by December and the ZAP reader will be placed back at the intersection.
Third Ave South is being redesigned between 1st St South and 16th St East. The redesigned street incluses a protected bikeway and is expected to open in 2017.
Park and Portland Aves have new raised protect bikeways between 3rd and 4th Str South on Park Avenue.
See the Minneapolis Bicycle Coalition's website (mplsbike.org), or this week's Downtown Journal  featuring a comprehensive listing by Annie Van Cleve of the current construction projects underway.
World Car Free Day – September 22, 2016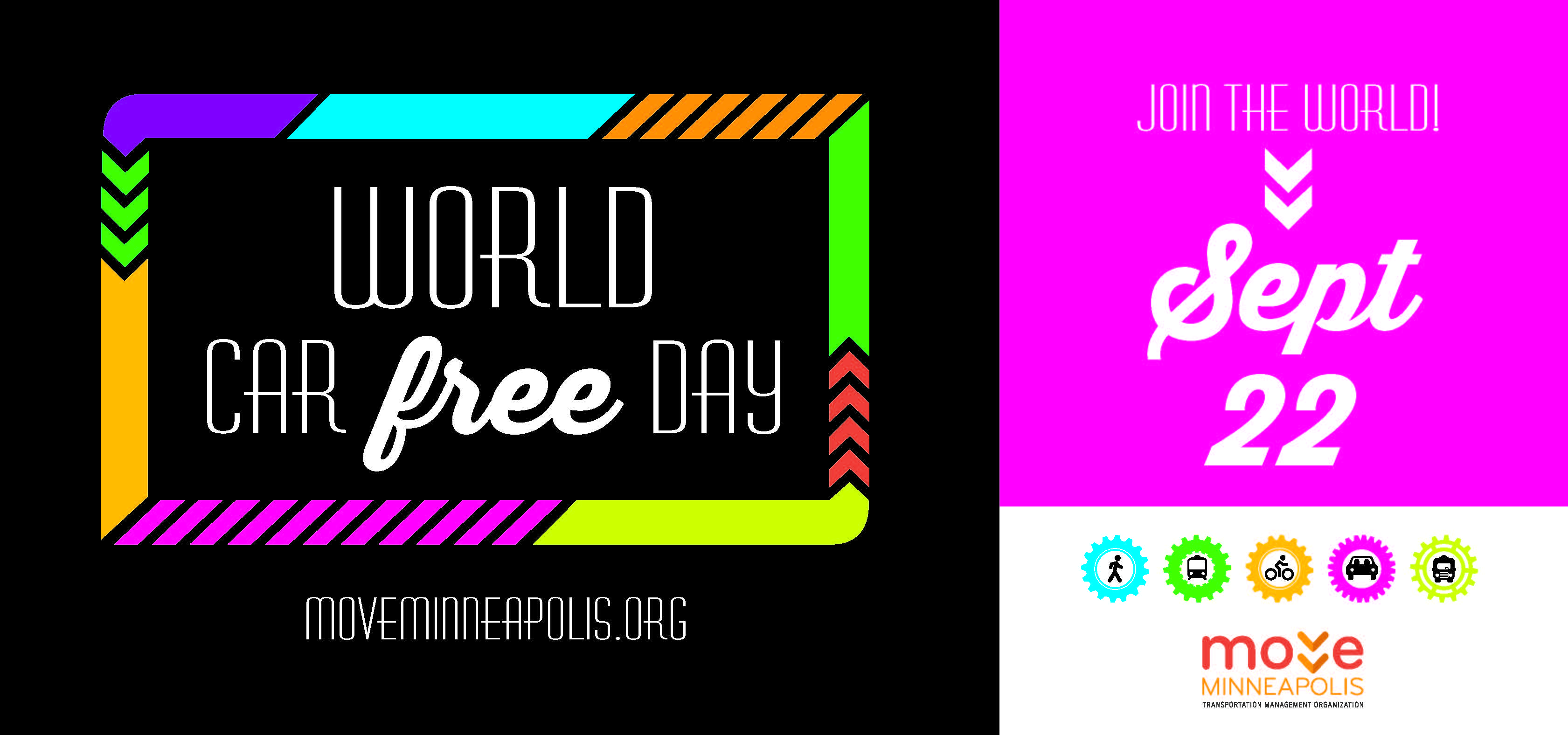 Here's a challenge to go  "Car Free" or "Car-lite" (carpooling) for an entire day on Thursday, September 22nd.  Minneapolis will be joining dozens of cities across the globe in celebration of World Car Free Day. It's a day to explore alternatives to single occupancy vehicles, and our city has many modes to offer. Of course, ZAPPING your ride on September 22nd is highly encouraged!

Conceptualized in Toledo, Spain in 1994, Car Free Day was launched the following year in Reykjavík (Iceland), Bath (United Kingdom) and La Rochelle (France). Under the informal guidance of the  World Car Free Days Consortium , the celebrations have been expanding throughout America, Europe, Australia and Asia ever since. Washington D.C. hosts the largest celebration in the United States with more and more communities participating each year. According to The Washington Post, the event "promotes improvement of mass transit, cycling and walking, and the development of communities where jobs are closer to home and where shopping is within walking distance"

Keep the car parked in the garage on Thursday, September 22nd.  Move Minneapolis is working with our transportation partners to promote and educate about alternative transportation modes. How to commute by bus or train in a fast, efficient and sustainable manner. What bike routes and protected lanes go into downtown, and where to safely lock up your bike once you've arrived. Try carpooling and park for fee that day. Try car-sharing or bike-sharing – get all the benefits without having to own one.

Move Minneapolis is planning a number of Car Free Day events leading up to and including Thursday, September 22nd. Pledge to try a new transportation mode and be entered in a drawing for valuable prizes, including a new Bianchi Cortina bike courtesy of One On One Bike Studio. Stay tuned for details on Minneapolis' first annual Car Free Day on September 22nd, 2016.
            


The Minneapolis Bike Tour celebrates 10 years of spectacular riding this September 18th. The event moved last year to the current Boom Island location in NE Minneapolis.  The ride features the Grand Rounds bike trail that circles North Minneapolis, Minneapolis' lakes, Minnehaha Falls and the West River Road along the Mississippi,
The 10th annual Minneapolis Bike Tour starts and ends at beautiful Boom Island and features three fully supported routes, 16 miles, 25 miles, and 32 miles, that take riders through the spectacular park and byway system of Minneapolis at their own pace, traffic free!
Date & TimeSunday, September 18, 2016
8 am: Bike Tour begins
8:30 am: You must be on the routeStarting Address
Boom Island Park
724 Sibley St. NE
Minneapolis, MN 55413
Post-Ride After Party
Stick around after the ride to enjoy LIVE music, one FREE beer from New Belgium Brewing, available to participants 21+ (must show valid ID), food trucks, exhibitor booths, and Bike Tour merchandise for sale!
The Post-Ride Party is open from 10 am-3 pm, with last call for beer at 2:30 pm. All ages are welcome into the beer garden including family members and spectators. Participants who would like a drink must show their ID and wear a wristband.
ZAP Prize Winners for July ZAPs
Drum roll please!

Big Winners: The August monthly drawing ZAP Prize winners of a gift card to Ling & Louie's:
The ZAP Prize winners of the One On One Bicycle Studio gift certificates:
A. Hart, D. Peterson, J. Strebe
The ZAP Prize winner of the Topeak "Master Blaster" Road 4349 bike air pump:
The ZAP Prize winner of Deuter Hydro Lite pack:
The ZAP Prize winner of Gizmo Black Diamond headlamp:

To be entered in the monthly drawing for prizes, all you have to do is get ZAPPED at least 8 times during a given month. Winners are picked randomly from the pool of ZAPPERS with 8 or more ZAPS. If you have not yet redeemed your prizes, please pick them up at MOVE MINNEAPOLIS, at the Minneapolis Visitor Information on Nicollet at 505 Nicollet Mall. Open M-Sat, 10am – 6pm,  Sun. 12pm – 5pm.           
Make your first 10 ZAPs and earn bike lights!               
One of ZAP's special rewards: Make your 1st ten ZAPs and score an LED bike light/tail light set. We'll send out an email once a month to all of the new ZAPPERS who make their 1st ten ZAPs.
Want More Chances to Win Prizes? Follow and "Like" ZAP on Facebook and Twitter for impromptu give-aways!
Cycling Commuters – Where Does Mpls Stack Up?
 
Bike, Walk, Ride, Breathe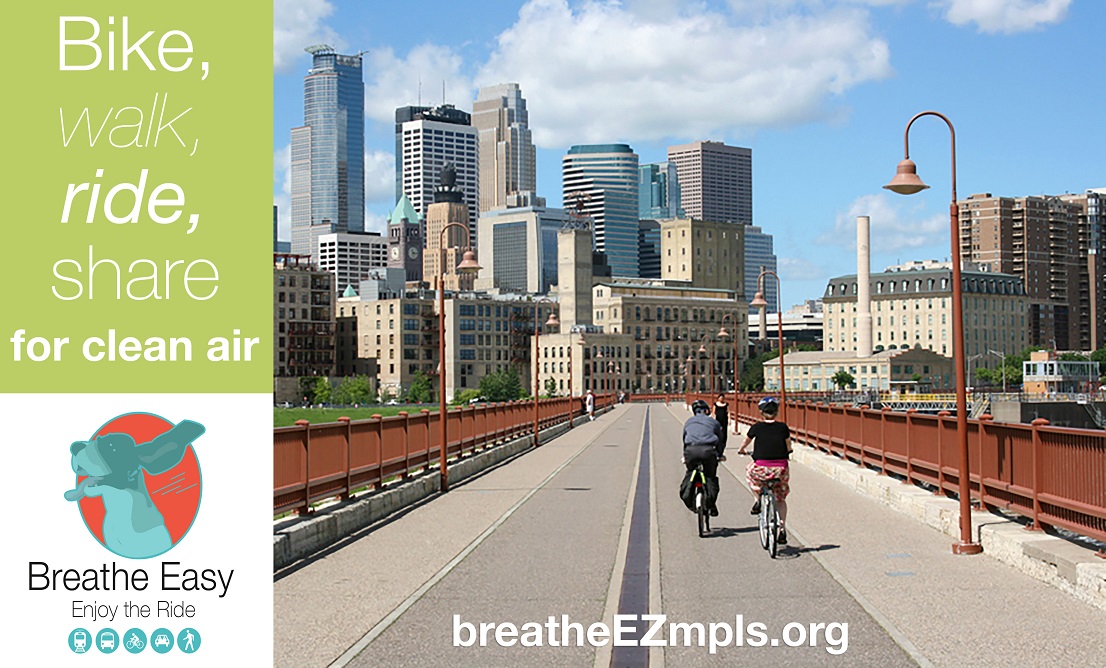 Breezy likes the improved air quality in Minneapolis!
You know that part of your ZAP dashboard that shows how many pounds of CO2 you have saved from the atmosphere by ZAPPING instead of driving your car. Thank you! You are actively doing something to improve air quality in the Twin Cities every time you ZAP.
As a ZAPPER, you are cordially invited to "Breathe Easy", a campaign to improve air quality. Go online to www.breatheEZmpls.org to pledge ZAP trips, make more sustainable choices, and stay informed about air quality.
NEED A LITTLE MORE ENCOURAGEMENT?
Pledges are entered into a prize drawing for a Downtown Minneapolis Staycation package that includes a night's stay at The Westin Minneapolis, dinner at Fogo De Chao, an adventure with Twin Cities Brewery Tours and pair of Nice Ride memberships.
  ZAP Minneapolis Newsletter August 2016
---
ZAP Minneapolis is a program of Move Minneapolis. Move Minneapolis is made possible by a federal Congestion Mitigation and Air Quality (CMAQ) grant in partnership with the United States Department of Transportation, the Metropolitan Council, the City of Minneapolis and the Downtown community.