July 2016 ZAP Minneapolis Newsletter
Included:
New ZAP Reader At Macalester College

ZAP Twin Cities is coming to the Macalester-Groveland Neighborhood  
Cyclists now have a great reason to bike to visit Mac-Groveland! On Thursday, July 16th, Macalester College and St. Paul Smart Trips debuted the newest ZAP station at the corner of Macalester Street and Summit Avenue. The reader is powered by batteries during the day, and recharges at night on the City of St. Paul's power grid. The new ZAP reader will serve the Macalester community as well as the surrounding neighborhood. Hopefully, the new reader will encourage faculty, staff, and students at Macalester College to bike to campus!
To celebrate the opening of the latest ZAP station, St. Paul Smart Trips is holding a week-long promotion with a daily prize drawing! To enter, simply ride your bike by the Macalester Street and Summit Ave ZAP reader from July 18-24.Each day a bike gets ZAPPED, the rider is entered into that day's drawing from a different local business. Participate for a chance to win a gift certificate from Grandview Cinema, Common Good Books, Dunn Brothers, the Italian Pie Shoppe, Patagonia, French Meadow Café, and Pad Thai. Dairy Queen is sponsoring the promotion with a blizzard a day to a lucky cyclist. See our full range of prizes and their specific prize drawing dates here:
Include link to Smart Trips blog with further details and logos of businesses http://www.smart-trips.org/mac-zaps/
Bike To Orchestra Hall & Receive 50% Off Select Concerts!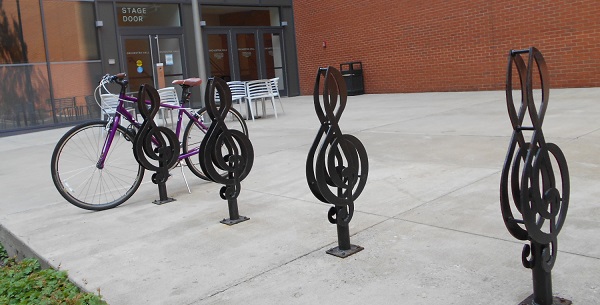 Sommerfest: July 8th – 23rd
Pedal to a concert performance and and enjoy 50% off select dates at Orchestra Hall. Minnesota Orchestra introduces a special offer for those who bike to Orchestra Hall. Bike racks are available and there are plenty of lockers inside for bike helmets and gear.
Bike to any concert at Orchestra Hall and show your bike helmet or gear at the Box Office to receive a card with a discount code to unlock 50% off select upcoming Minnesota Orchestra concerts starting Friday, July 8th. New concerts will be added to the list regularly. Some restrictions apply. For info: minnesotaorchestra.org/bike
Volunteer for Orch Hall Events & Get Rewarded With FREE Tickets!
We're looking for a few more ZAP volunteers to staff a table at Orchestra Hall for 2 hours prior to select concerts during Sommerfest. Volunteers work in the lobby of Orchestra Hall, answer basic questions about ZAP, share their enthusiasm about biking and distribute bike maps. Each volunteer receives a FREE ticket to that evening's performance. Sign up to volunteer for:
Sun. July 10 (5-7 volunteer shift)
Sat. July 16 (Two performances, two different volunteer opportunities, 4-6pm volunteer  & 6-8 volunteer shift)
Sat. July 23 ( 5:30 – 7:30 volunteer shift)
For concert information about these dates: Sommerfest 2016  Interested?  Please contact John Barobs: john@moveminneapolis.org  for complete details. ZAP volunteers receive training.

Mark Sonnen – 1,100 ZAPS And Counting!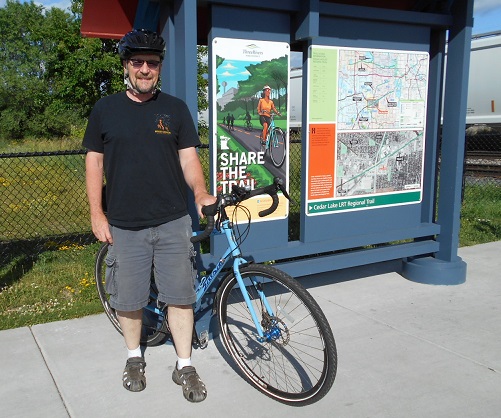 Mark Sonnen has ZAPPED 1,100 times – over 22,000 miles!  In reality, he's bicycle commuted two or three times that number of miles when you consider most of his rides were in the pre-ZAP era.
Mark Sonnen has been riding from his home in Hopkins to his job at HCMC since 2005 – a 20 mile round trip! He started years before there were paved bike trails into downtown or HCMC had a bike room.  Mark worked at HCMC as a nurse, the past eight years as a pediatric RN.  He began cycling as a way to relieve the stresses of his rewarding but demanding career. He found that the morning ride into Minneapolis was a great way to energize the day, and the ride back home melted away tensions and cleared his head.
The commute, Mark's main form of exercise, was addicting! Over the years, Mark extended the riding to year-round. He'll ride in almost any kind of weather. In fact, he's become a big fan of winter biking with studded Nokia tires, quality mittens and plenty of bike lights.
Mark was introduced to the ZAP program when it newly launched in 2011 by the University of Minnesota. He joined ZAP Minneapolis in October 2012 and now has four bikes ZAP tagged.  He's ZAPPED most everyday since. Those rides, however, are getting a little less frequent – this past May Mark retired from his nursing job. He might not have to ride into work anymore but bicycling is still his main mode of transportation. The Greenway, Nicollet Island and going to Twins games are his favorite rides these days -ZAPs are still being racked up at an impressive rate.  Congratulations to Mark Sonnen – the top ZAPPER in Minneapolis!
 Open Streets – Downtown Minneapolis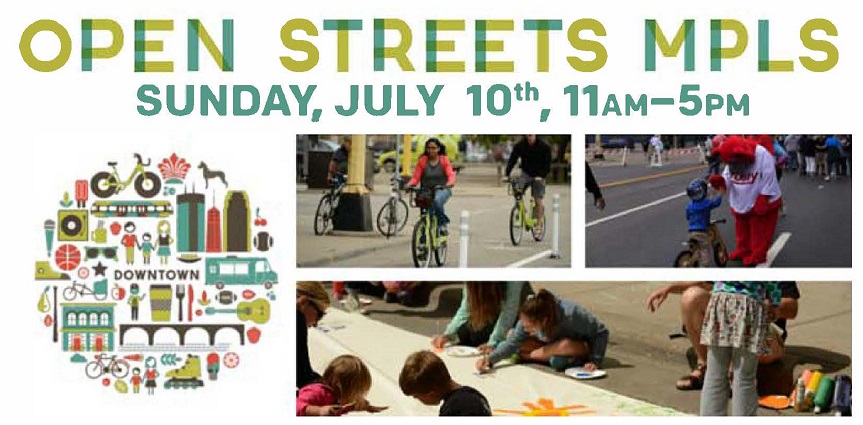 Open Streets Minneapolis is a great way to promote healthy living, downtown businesses, sustainable transportation and civic pride in Minneapolis. Open Streets creates miles of safe, car-free streets so that residents of all ages can run, play, walk, ride, and get to know one another in a fun, safe atmosphere. Move Minneapolis will be providing bike maps, ZAP tags, and learn about Minneapolis Car Free Day (Sept. 22) at our tent in front of Target Center on 1st Ave North.
Come wander the Open Streets in downtown Minneapolis this Sunday and have some fun! You can even bring your dog. Not biking in? Get to the event free on a Metro Transit bus or METRO lines with a downloadable pass, which will be available here.
Sponsored by: Minneapolis Bicycle Coalition & City of Minneapolis. And of course, it's free!
ZAP Prize Winners for June ZAPs
Drum roll please!

Big Winners: The June monthly drawing ZAP Prize winner of a gift card to Peace Coffee:
E. Struss, A. Demers, J. Smith
The ZAP Prize winners of the Boombotix power speakers:
The ZAP Prize winners of the Topeak "Master Blaster" Road 4349 bike air pump:
The ZAP Prize winners of Deuter Hydro Lite pack:

To be entered in the monthly drawing for prizes, all you have to do is get ZAPPED at least 8 times during a given month. Winners are picked randomly from the pool of ZAPPERS with 8 or more ZAPS. If you have not yet redeemed your prizes, please pick them up at MOVE MINNEAPOLIS, at the Minneapolis Visitor Information on Nicollet at 505 Nicollet Mall. Open M-Sat, 10am – 6pm,  Sun. 12pm – 5pm.           
Make your first 10 ZAPs and earn bike lights!               
One of ZAP's special rewards: Make your 1st ten ZAPs and score an LED bike light/tail light set. We'll send out an email once a month to all of the new ZAPPERS who make their 1st ten ZAPs.
Want More Chances to Win Prizes? Follow and "Like" ZAP on Facebook and Twitter for impromptu give-aways!
Breathe Easy with Breezy (the dog, not Billy)!
                        Breezy likes the improved air quality!
You know that part of your ZAP dashboard that shows how many pounds of CO2 you have saved from the atmosphere by ZAPPING instead of driving your car. Thank you! You are actively doing something to improve air quality in the Twin Cities every time you ZAP.
As a ZAPPER, you are cordially invited to "Breathe Easy", a campaign to improve air quality. Go online to www.breatheEZmpls.org to pledge ZAP trips, make more sustainable choices, and stay informed about air quality.
NEED A LITTLE MORE ENCOURAGEMENT?
Pledges are entered into a prize drawing for a Downtown Minneapolis Staycation package that includes a night's stay at The Westin Minneapolis, dinner at Fogo De Chao, an adventure with Twin Cities Brewery Tours and pair of Nice Ride memberships.
  ZAP Minneapolis Newsletter July 2016
---
ZAP Minneapolis is a program of Move Minneapolis. Move Minneapolis is made possible by a federal Congestion Mitigation and Air Quality (CMAQ) grant in partnership with the United States Department of Transportation, the Metropolitan Council, the City of Minneapolis and the Downtown community.