AUGUST 2015 MINNEAPOLIS ZAP NEWSLETTER
Included: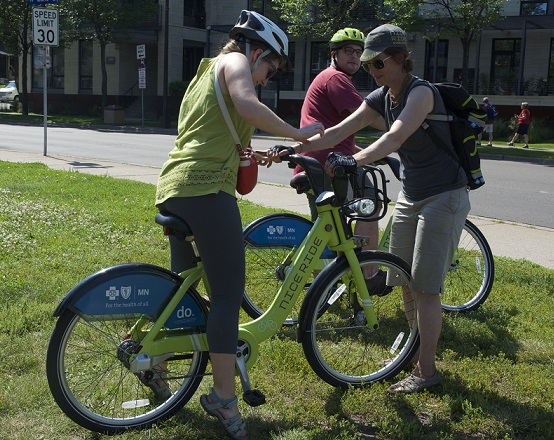 Hello ZAPPERS –
Big news! Since 2012 ZAP Twin Cities has enrolled over 3,000 members – over 500 have signed up this year alone. This does not include another 3000+ who are members of the U of M ZAP program. About 60% are signed up as individuals and the rest are enrolled through their employer or school. And now, Nice Ride and ZAP Twin Cities are ZAPPING together again to expand the program even more!
If you have a Nice Ride membership you can ZAP by riding the neon green Nice Ride bikes. Just link the Nice Ride and ZAP accounts together. When you check out a Nice Ride bike for 10 minutes or more, it counts as a ZAPPED trip! Nice Ride bikes do not have RFID ZAP tags, but the rides are counted via the Nice Ride kiosk stations. No need to ride by a ZAP station to ZAP your Nice Ride.
Simply log into your ZAP Twin Cities account, click the "Settings" button at the top right, and select "Bike Share Accounts" from the dropdown menu. On the next page, click the "Add One!" link. Fill in your Nice Ride user name (not your email address) and Nice Ride password.
If you have a Nice Ride membership, but don't have a ZAP Twin Cities account, you can still sign up. Go to zaptwincities.org and click "Register Now!" Fill in the information, but don't worry about the "ZAP tag#" or "Verify tag#" fields. Just add in your Nice Ride member information and you are ready to get ZAPPED and get rewarded.
 A NEW BIKE RACK IN THE MARCY HOLMES NEIGHBORHOOD
Congratulations going out to Kevyn B.,  the grand prize winner of the Dero Rainbow Bike Rack from a drawing of entries at Pride Twin Cities 2015. Kevyn will put the bike rack to good use! The bike rack will be installed in front of multi-family building where she lives in the Marcy Holmes neighborhood. There are a number of cyclists in her building but, until now, they did not have a community bike rack.
JULY & AUGUST ZAP PRIZE WINNERS
Drum roll please!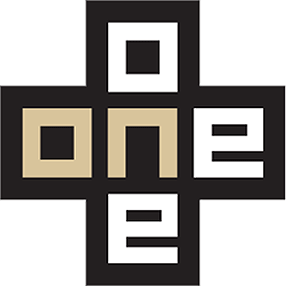 The July/August winners of $10 gift cards for Peace Coffee:
G. Downing, J. Klein, F. Kreider, W. Omar, L. Tradewell, K. Balcerzak, A. Tselos, J. Wuebker, J. Thell, S. Feng
The July/August winners of $20 gift certificates to One On One Bicycle Studio:
A. Beckman, M. Heikkinen, G. Schmidt, D. Letsche, S. York, S. Hegland, R. Vegas, B. Weaver
F. Kreider, S. Takumura
The person who made the 200,000th ZAP on July 21st and winner of the portable Boombotix Power Speaker + a One On One Bicycle Studio gift certificate is: R. McCurley
To be entered in our monthly drawing for prizes, all you have to do is ride and get counted by ZAP readers at least 8 times that month. Winners are picked randomly from the pool of ZAPPERS with 8 or more ZAPS. If you have not yet redeemed your prizes, please pick them up at Commuter Connection, 220 S 6th St, Suite 230 – Skyway level, M-F, 10am – 5:15pm.
New Member?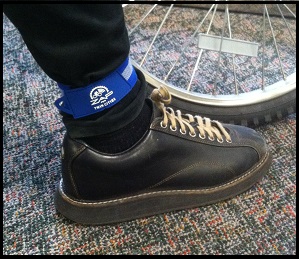 As a warm welcome, newbies get a prize after their first 10 ZAPs – a ZAP Leg Strap and a 60 Day Access Pass to Twin Cities' Chinook Book   (see below for more info on Breathe Easy and Chinook Book)
Want More Chances to Win Prizes? Follow and "Like" ZAP on Facebook and Twitter for impromptu give-aways!
New bike or replace your front wheel? Get a new ZAP tag at:
Open Streets On Sunday August 16th and 23rd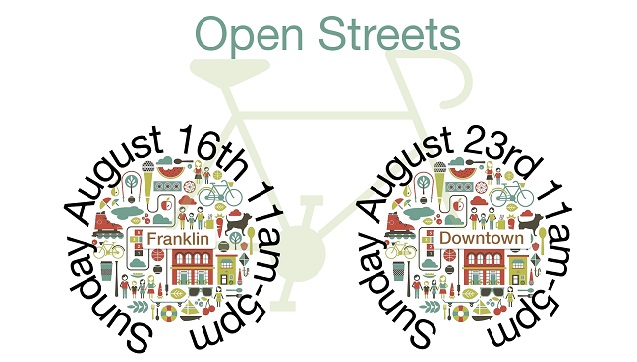 For the past five years, streets in Minneapolis have transformed to allow residents to experience their city in a whole new way — by bike, by skateboard, on roller skates. It's called Open Streets Minneapolis, and it has grown from one event in 2011 to eight in 2015 events all across the city!
This Sunday,  August 16th Franklin Ave host Open Streets from 11am – 5pm.  The following Sunday, August 23rd will see Open Street in downtown Minneapolis following the length of 1st Ave North in the Warehouse District and then turning north up Washington Avenue into the North Loop.
Open Streets Minneapolis is the perfect chance to promote healthy living, local businesses, sustainable transportation and civic pride in Minneapolis. Open Streets creates miles of safe, car-free streets so that residents of all ages can walk, bike, shop, participate in spontaneous play activities, and get to know one another.
Check out Open Streets in your neighborhood, and enjoy it from a different perspective. Come wander the Open Streets and have some fun! You can even bring your dog.
And of course, it's free!
ZAP Twin Cities Reaches 200,000 ZAPS, 2 Million Miles!

On July 21st ZAP Twin Cities reaching the 2 million mile mark since the program launched in 2012. Let's put that into perspective; in 1939, Tommy Godwin of England cycled 75,065 miles in one year, a world's record – an average of 205 miles per day. The record still holds to this day.  Fellow Englishman, Steve Abraham is trying to break Godwin's record this year but is having some challenges.
So, how does that stack up to ZAP Twin Cities 2 million miles?  Well, it would take Tommy 26.6 years at 205 miles per day to catch up to ZAP Twin Cities.  But, it is not really a fair comparison since there are 3000 ZAP members vs. one Tommy Godwin.
A BIG THANKS TO ZAPPERS FOR IMPROVING AIR QUALITY
You know the section of your ZAP dashboard that spells out how many pounds of CO2 you have personally saved from going into the atmosphere just by bicycle commuting instead of driving alone in your car. Go ahead,  check it out. Thank you! You are actively doing something for lowering emissions and improving air quality in the Twin Cities.
As a ZAPPER, you are cordially invited to "Breathe Easy", a campaign for awareness of the Air Quality Index (AQI) and how personal choices can directly impact air quality. Go online to www.breatheEZmpls.org to pledge to ZAP trips, make more sustainable choices, and stay informed about air quality. Get rewarded with a Chinook Book 60-day access pass mobile app. The pass provides access to over 400 discounts at local businesses that offer sustainable products, services or activities.  All pledges are entered into a drawing to WIN a Minneapolis STAYCATION package featuring:
Breathe Easy and enjoy the ride!
ZAP Minneapolis Newsletter August 2015