APRIL 2015 MINNEAPOLIS ZAP NEWSLETTER
Included:
Hello ZAPPERS -The grayish brown surroundings are taking on a greenish hue. The multi-layers of biking clothes are peeling away and traffic is flowing on the trails. Spring has been tapped. Just listen to the steady chorus of ZAP pings echoing in the distance.

Those ZAP pings tell an interesting story. By comparing the total number of ZAPs last month to the total number of ZAPS in March 2014 and 2013 we can see how much the program has grown. The ZAPS in March doubled over last year and tripled from two years ago. Now, to be fair, this March was a lamb compared to the lions of March, '13 and '14. But the numbers also reflect the growth of ZAP membership – 101 this year so far. Along with new members, many commuters added ZAP tags to their winter bikes to keep ZAPPING year-round. Notice the number of fat bikes and studded tires tracks that braved the weather the past few months? Impressive!

All of this sets the stage for a banner year of bicycle commuting and having fun on the trails. Enjoy the ride, listen for the "beep" and pat yourself on the back. Well done!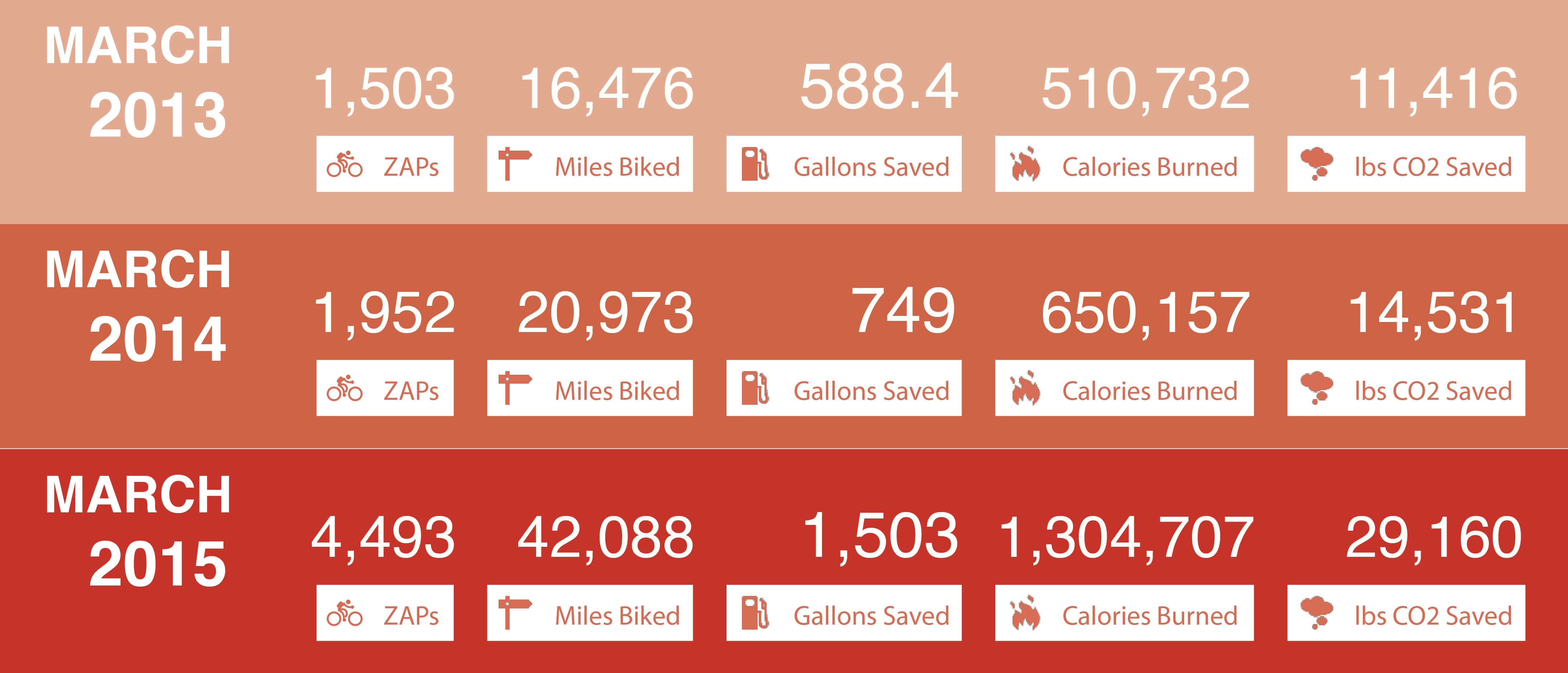 Happy Zapping!
John Barobs – ZAP Twin Cities Team
Downtown Biking Impacted By Road Construction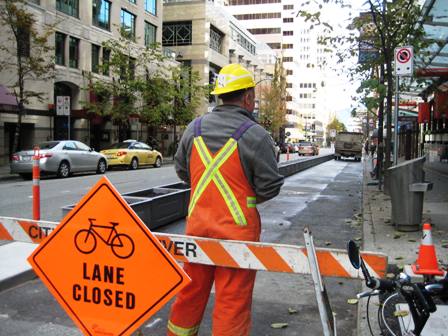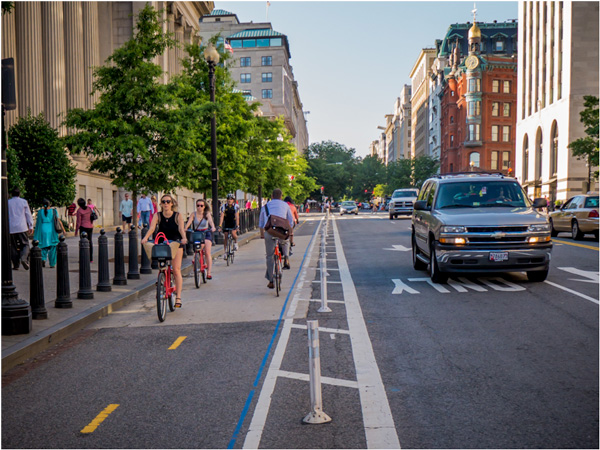 Trail infrastructure improvements and protected bike lanes are in various stages of planning or construction. For those coming into downtown Minneapolis, this summer is going to be an especially challenging season of road projects. Hang in there! The end results of this mayhem are improved and safer roads, dedicated bike lanes and trails. Watch for announcements when a ZAP station is temporarily closed for road construction.

Follow an interactive map of downtown road construction to see how some bike routes will be impacted:

http://arcg.is/1w5ININ

   Large scale projects will detour bike travel at various times this summer on Nicollet Mall, Washington Ave near the Mill District, the Lyndale Ave / Hennepin Ave intersection between the Walker Arts Center and Loring Park,  and a good portion of the Downtown East Commons area is being transformed by the new Vikings Stadium.

The 

West River Parkway

 just south of the West Bank remains closed to bike and car traffic as the Mississippi bluff is shored up next to St Mary's Hospital after a massive landslide last year.

Across the river in Stadium Village, the Minneapolis Public Works Department is planning to install a two-way protected bike lane on Oak St SE between East River Pkwy and Washington Ave SE. Oak St SE is a high-demand U of M corridor for bicycling, carrying over 1,100 bicyclists per day.

The protected bikeway will create a more comfortable space to ride that is physically separated from motor vehicle traffic. A separated facility attracts a wider demographic of riders and protected bikeways are an important tool to increase bicycling in Minneapolis.
PRIZE WINNERS FOR MARCH
Drum roll please!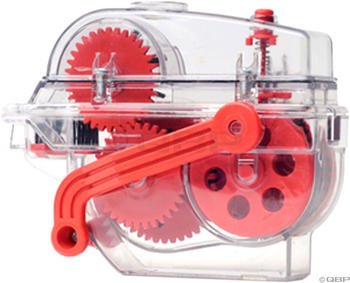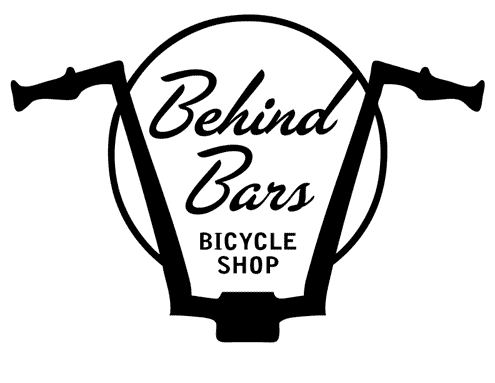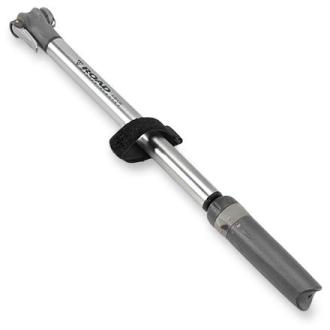 The March winners for a Pedros Chain Machine,  Topeak Bike Pump, or a FREE tune-up at Behind Bars Bicycle Shop are:
 D. Stepan, E. England, J. Gondeck, K. Stoerzinger, S. Poppenhagen
To be entered in our monthly drawing for prizes, all you have to do is ride and get counted by ZAP readers at least 8 times that month. Winners are picked randomly from the pool of Zappers with 8 or more ZAPS. If you have not yet redeemed your prizes, please pick them up at Communter Connection
New Member?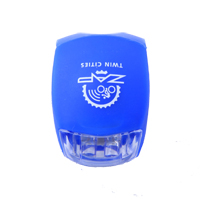 As a warm welcome, newbies get a prize after their first 10 ZAPs – a ZAP LED bike light! Twentyone new members received notice that they have earned a ZAP LED bike light. Come on by to Commuter Connection,  say "Hey" and pick up your bike light.
Want More Chances to Win Prizes? Follow and "Like" ZAP on Facebook and Twitter for impromptu give-aways!
NOW ZAPPING WITH SURLY!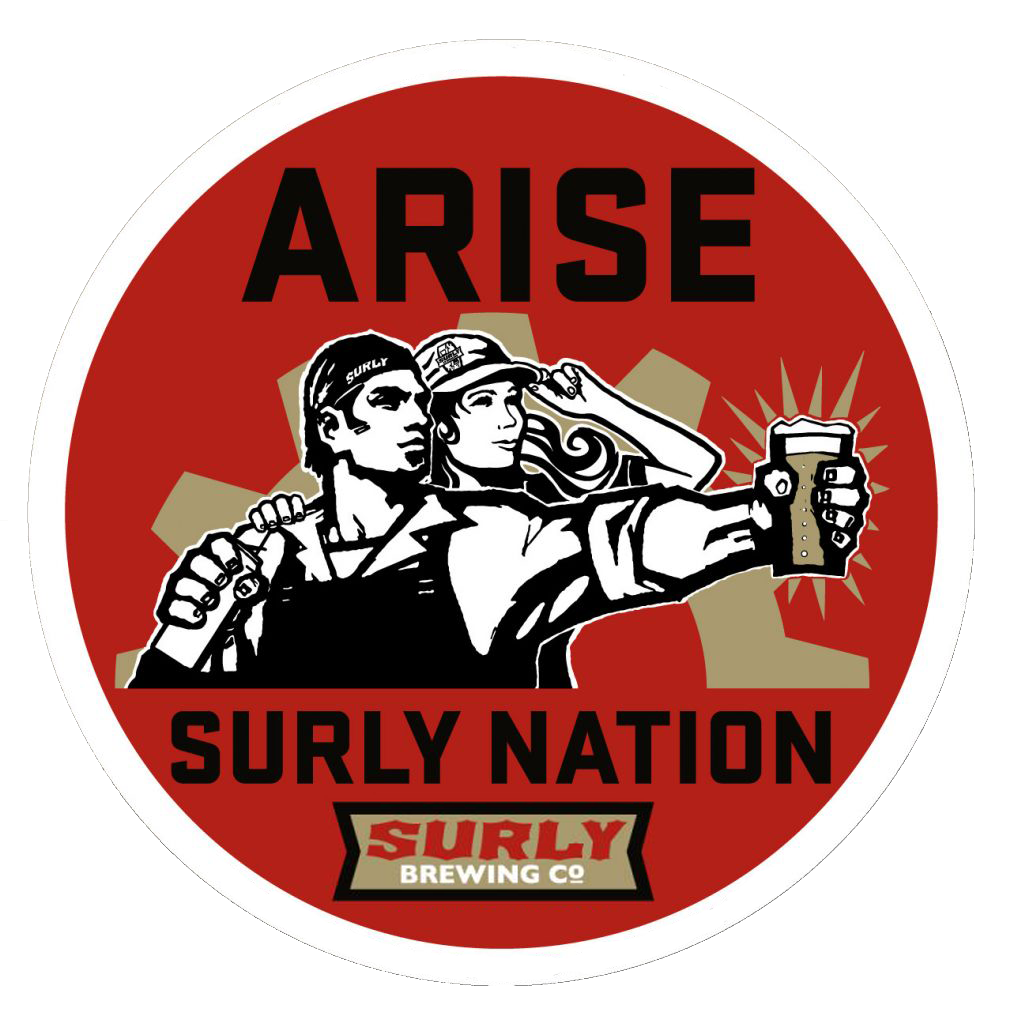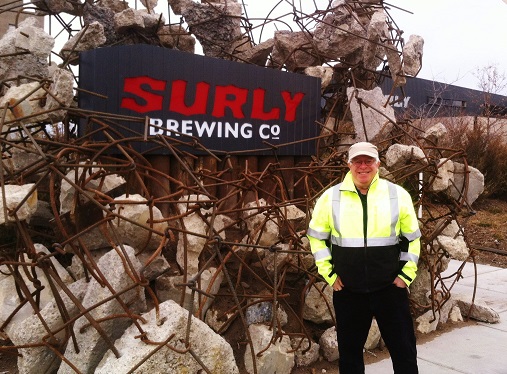 ZAP Twin Cities' tag line, Bike Commuting Counts, is all about how small successes stack – last year our 2100+ members logged bike miles equal to 23.5x around the world.  And employer partners were the largest contributor to that effort.

ZAP Twin Cities has fifteen employer partners including some of Minneapolis' largest employers, city and county government and non-profit organizations. ZAP Twin Cities is pleased to enroll Surly Brewing Company as our newest partner. Many Surly employees commute by bike to the beautiful new brewing facilities located in the Prospect Park neighborhood. With a ZAP station located less than a block from the brewery, those bike commuters are now quantifing the miles they ride. Tap room and beer garden guests who ZAP can also add miles to their dashboard. Surly also provides plenty of bike parking at the main entrance.

Please contact John Barobs for information on ZAP Twin Cities' employee partnerships.
NEW! THE 2015 ZAP TWIN CITIES BIKE MAPS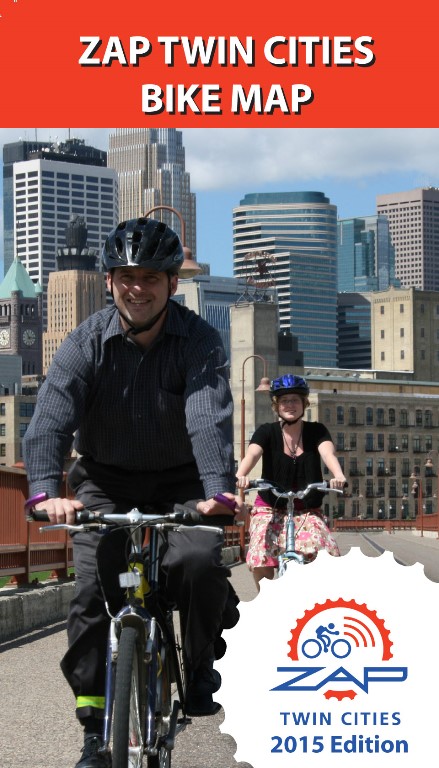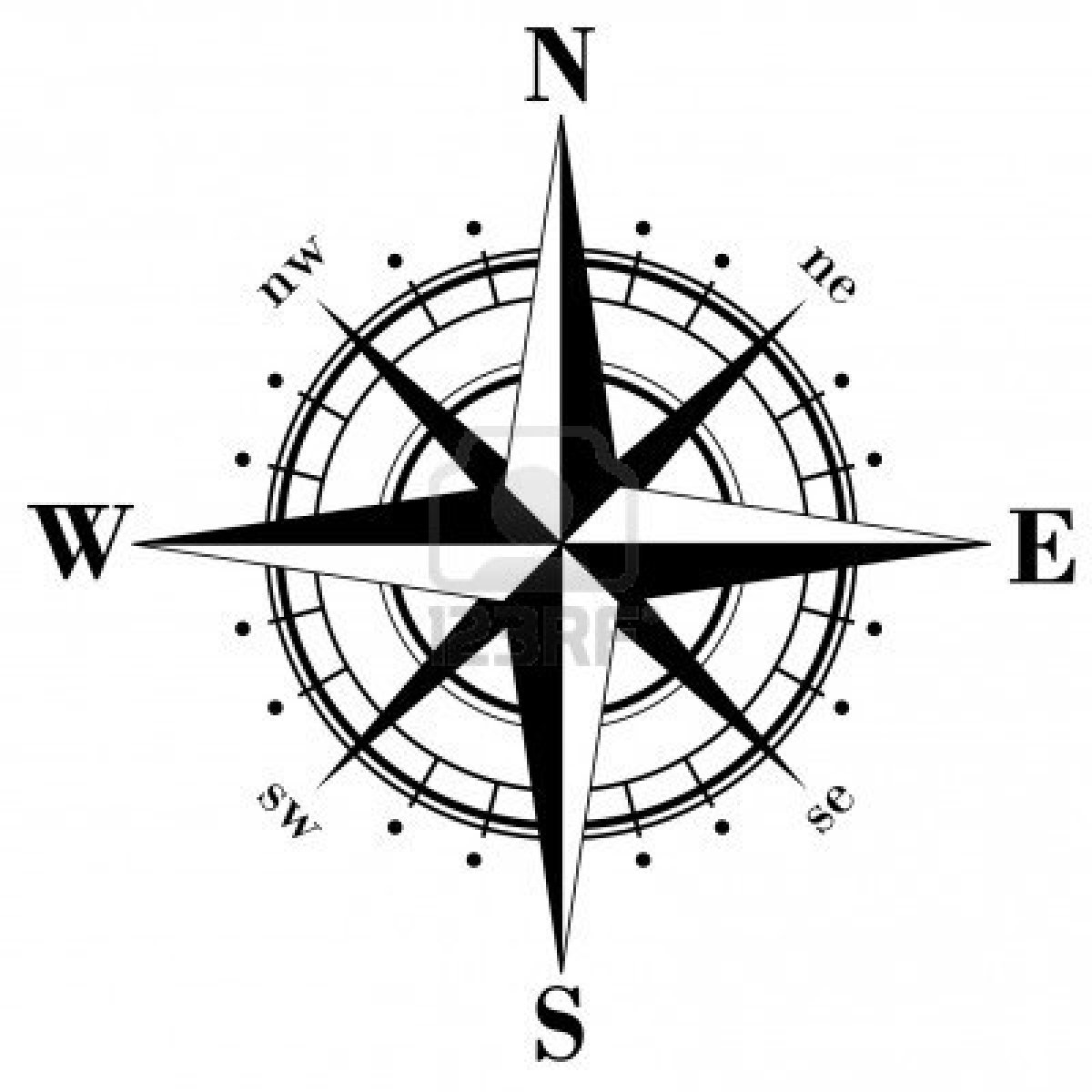 Where to ZAP? How to ZAP? Check out the 49 ZAP station locations situated on key bike routes throughout downtown Minneapolis, St Paul and the University of Minnesota. You up your FREE 2015 ZAP Twin Cities Bike Map at over two dozen locations including our sponsors and partners: ABC Ramps Bike Facilities, American Diabetes Association's Tour de Cure, Calhoun Cycle, Car2Go, Commuter Connection, Dero, Enterprise Car-share, Freewheel Bike, Midtown Bike Center, Have Fun Biking.com, HOURCAR, Hub Bike Co-op,  U of M Bike Center, One On One Bicycle Studio, PENN Cycle, Saint Paul Smart-trips, Seward Co-op, Sunrise Cyclery, Surly Brewing Co., Varsity Bikes, VELO, Wedge Co-op and Zipcar.

Please support our map sponsors.

Commuter Connection
220 South 6th Street, Skyway Level of US Bank Plaza
Minneapolis, MN 55402
www.commuter-connection.org
ZAP Minneapolis Newsletter April 2015